A popular get-rich-quick scheme making its rounds on social media right now is the Automated Wealth Network claiming to be able to make you a 6 figure salary in no time with their automated sales system. In this Automated Wealth Network Review you will learn what the Automated Wealth Network sales system is all about and whether it is a legitimate way to earn a living working online, or if it's just another scam.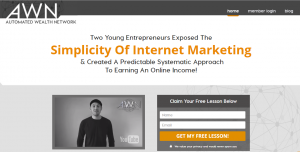 Name: Automated Wealth Network
Website: automatedwealthnetwork.com
Price: $20/month + upsells
My Rating: 20 out of 100
Experience Level: Beginner – Advanced
Introducing You to the Automated Wealth Network Review
If you have came across a free training offer from Automated Wealth Network (AWN) recently claiming to make you a 6 figure income with no experience at all then you might be thinking you've heard this claim a million times before.
Is Automated Wealth Network any different?
Well, to start things off you are required to enter your name and email address in order to get the free training. Pretty standard stuff in the Internet Marketing world in order to build an email list that can be used in an email marketing campaign.
Sadly, the free training video that you receive is actually just 13 minutes of fluff with ZERO training.
You get the usual sob story about how hard he had it and that he had to ask for money from friends and family members for rent and that he was able to pull up his bootstraps at the age of 24 and revolutionize the online business world (spoiler: it's not revolutionary at all).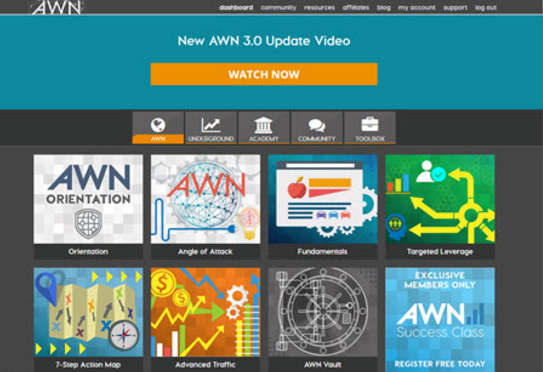 Don't get me wrong, anyone who is able to turn their lives around and make something of themselves deserve all the credit they deserve. But people who build their wealth by making false claims and manipulating those who are desperate to make money online, like the owners of AWN, Tim Chenosis and Michael Cocan, do not deserve any credit.
What is the Automated Wealth Network?
Automated Wealth Network gets you hooked with their "automated sales system" that they claim you can start making money right away without creating a website or selling anything at all. You simply purchase their training videos and then get people to click on your affiliate link and also purchase the training videos.
This system is a standard Multi-Level Marketing (MLM) scheme that requires you to first buy the product in order to promote and sell the same product to other people. You're not actually creating anything for yourself, just buying and selling the training videos that are promoted by AWN.
Systems like this do work and they do make people money but it's the people who created the system, like the owners of Automated Wealth Network, who are making any money.
And what if you don't find the training useful?
Too bad. There are no refunds.
What is the Training Like at AWN?
The first $20 that you spend in order to gain access to the site will provide you with the "Fundamentals" training which includes 2 training modules – Angle of Attack and Marketing Fundamentals.
The Angle of Attack course is basically just more fluff about what it is going to take in order to be successful online. There are 5 training videos that talk about standard topics that you can find for free on YouTube in order to succeed online like setting goals and investing in yourself.
The Marketing Fundamentals course is more of the same of what you can find for free anywhere online with a quick Google search – definitely not worth paying for. It will go over things like internet marketing, traffic, sales pages, and automation.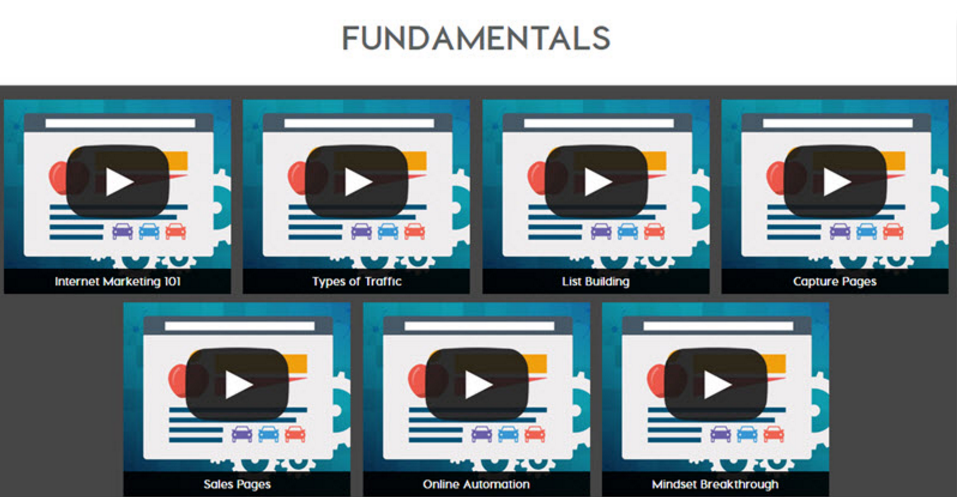 The Angle of Attack and Marketing Fundamentals are the only two training modules that you are going to get when you first pay $20 to join the site. You are definitely not any closer to making 6 figures and the things you've learned you probably already know if you've been in the online marketing space for any time at all.
In order to get the next levels of their training courses you are going to have to spend more money (side note – you won't even be able to start making any more money unless you buy their additional training).
What about the Upsells?
The two additional levels of training you can purchase on the site are AWN Core and AWN Underground.
AWN Core is an additional one time-fee of $47 ($67 if not purchased right away) and focuses more on getting traffic to your affiliate link. There is some good information in the videos but if you have never done anything like it before than it can be confusing.
Also, AWN Core focuses on paying for traffic which is not what you should be focusing on when you first start your online business. Even if you were being taught how to build a website (which you're not) with AWN you wouldn't immediately start by paying for traffic to your site.
It might be good in the short-term but if you want long-term success then you are going to need traffic to come to your site without having to pay for it.
AWN Underground is an additional $97/month (which bring your monthly total to $117/month) and is basically just gives you access to a message board that doesn't have very many active users. You also get access to their archive of training videos but they are definitely not worth $117/month.
Is Automated Wealth Network a Scam?
After seeing what AWN has to offer and how they claim they are going to be able to make you money, I would recommend saving your money and using it to start a real online business.
Not only is what is offered on the site completely overpriced for what you get, the reputation of AWN is very poor so even if you had the best sales pitch in the world, you'd be faced with challenges right from the start.
If you want to be able to make it in the online world and create a successful online business then you are going to need a website.
The fact that the owners of AWN say that you don't even need a website in order to make money is ridiculous and not having your own website only benefits them.
If you are serious about starting an online business and want to get started for FREE instead of having to spend money only to find out the training videos are worthless, then check out my #1 recommendation for starting an online business.
You'll get instant access to free training and have a fully functional website up and running within the first couple of days. You'll have access to an entire ACTIVE community of thousands of online entrepreneurs that are available to talk to 24 hours a day and any question that you could possibly have about starting an online business has been answered and is searchable on the site.
It is possible to earn a living working online without having to join a get-rich-quick MLM scheme like Automated Wealth Network but it is going to take a lot of hard work.

What are you going to do today to start your online business?
To your success,
-Nate