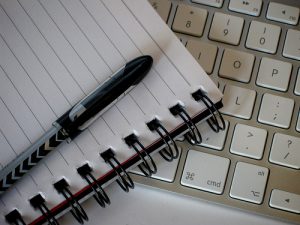 If you're starting to learn how to create content for a website then you have most likely already chosen a niche and built a website and are ready to start developing content for your website.
But first you need to understand what content is and why your website and business can't succeed without it.
---
What is Content?
Content can be any type of media that adds value to your site and is helpful to visitors.
Blog posts are the most common type of media that you will find on websites, especially affiliate marketing websites, and will be the way search engines are going to be able to find your website and place it in their search results when someone types in a keyword.
What is a keyword?
A keyword is anything that you, or anyone else, would enter into search engines like Google and you will be providing with a list of websites that have used your specific search term in a page or post of their website.
Your goal is to be as close to the top spot on Google's search results as possible.
The other search engines, such as Bing and Yahoo, are also important but Google captures 64% of search traffic each year so is the one you should focus on. If you are able to get one of your articles on the first page of a popular keyword that has hundreds or thousands of searches each month, you will get a ton of traffic to your site.
When people start coming to your site you want to provide them with as much engaging and helpful content as possible so you can gain their trust and their time.
Getting the most from keywords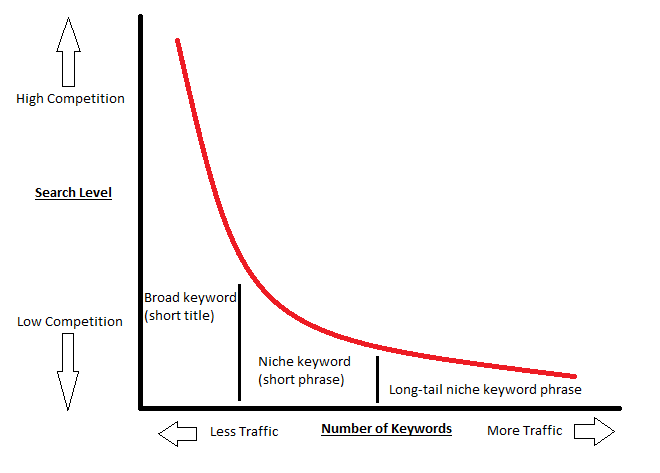 The keyword of a post is going to be in the title and is what the post is all about so you want to find a keyword that people are searching for and looking for help with. In order to find a keywords that are being searched on Google you can do a few things.
If you want to get the most out of your post and find keywords that show specifically how many people are searching for that keyword and how many other posts are already ranked for that keyword, you will want to use a keyword tool like Jaaxy which helps you find the best keywords that are going to drive the most traffic to your website.
For example, if I want to write a post about what to bring when backpacking in Europe I would search Jaaxy for a relevant keyword. Just like when you were narrowing down your business to a niche market rather than the broad categories, finding phrases that include many different keywords will allow you to target a more niche group of people.
These 'long-tail keywords' are great because they might have only a couple hundred people searching for them each month but hardly any competing pages in Google.
After searching "what to bring when backpacking in Europe" on Jaaxy, you get the following results: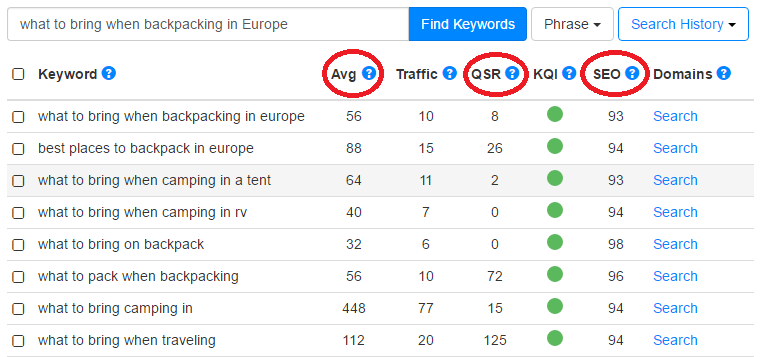 The three words circled in red – Avg, Traffic, and QSR – are the columns that you will be paying attention to when finding keywords for your posts.
Avg

– The average number of people searching that keyword each month
QSR – The number of other websites that are ranked in Google with the exact same keyword
SEO – A score based on traffic and competition of that keyword – the close the score to 100 the better
When choosing which keyword you would like to focus on for your post the higher the Avg is the better since you want a keyword that is getting searched often. The Avg is kind of low for this specific keyword but since the QSR is also very low, the SEO rating will show you this would be a good keyword to use since it is over 90 and showing a green circle.
When searching for keywords I would recommend trying to find keywords that have an Avg over 50 and a QSR under 100.
If you find a really good keyword like the one shown above and write a post about it, as your site matures it is very likely that you will be on the top page of Google for that keyword and your post will be seen by a lot of people each month. The more niche and long-tail keywords you can find with high Avg and low QSR the better.
How do You Find Good Keywords?
In order to do find long-tail keywords with a high Avg and low QSR you will need to have a way to find good keywords that people are searching for so you can have a starting point for your keyword research.
One great technique that I commonly use when I am trying to think of a keyword to write a post about is the Alphabet Soup technique.
To use this method to find commonly searched keywords, open Google and start typing the first couple of words of a keyword in your niche.
For example, if you wanted to write a post about the trains in Europe you can start typing in your search term and Google will suggest 3-4 popular keyword that people have been searching for.

Now that you have some ideas for keywords, find one that you are interested in and then head back over to your keyword researcher to check the competition.

After searching the first result that Google suggested it doesn't look like that keyword gets much traffic but it looks like it found another keyword 'travel in europe by train' that you can continue to Alphabet Soup with until you narrow your post down to a niche audience.
Also, the title of your post doesn't only have to have just one keyword. You can put as many keywords and keyword phrases in your title as you want.
But remember that there are going to be actual people reading your posts so make sure the title makes sense and is grammatically correct. If your title doesn't make sense then people are going to be less likely to click and read it.
What's the difference between a page and a post?
When you start adding content to your website you will have the option to write a page or a post and it is important to know the differences between the two.
If you're just starting to create content for your website then your mind might be all over the place trying to think of topics that you can write about for your niche. When adding pages to your site they should clearly outline what your site is all about and build the framework from which you will add more content to as your site grows.
For example, if your niche was travelling in Europe you might use the following pages:
How to Backpack Through Europe
Navigating Around Europe
Most Popular Destinations
Beginner's Guide to Europe
Once you have the pages that will create the foundation of your website, you will need to create a couple other pages like an About Me page, Privacy Policy, and Contact page and then you are ready to start creating posts for your site.
Posts, or articles, or blogs are what you write to generate visitor traffic to your website. Your posts will focus on using keywords in the title and throughout your post to get ranked in search engines.
The goal of adding posts to your website is to become an authority in your niche.
As you add more and more posts to your site there will be hundreds and even thousands of keywords that people could search for and find your website.
Creating post after post after post can sometimes be discouraging but posts are ultimately how you are going to grow your business. Once you get a solid foundation of a couple hundred posts on your website you will see your traffic build each month that your site matures.
If you do nothing but create as much content as you possibly can in the fist few months that your site is active, as soon as it matures and the search engines start trusting it you will be ready.
Until you start getting regular traffic to your site, focus on content.
Content = Rankings = Traffic = Trust
Ready to create your first post? Enter your search term in the space below and start coming up with some keywords you can write about.


Now it's time to get out there and start creating some content!